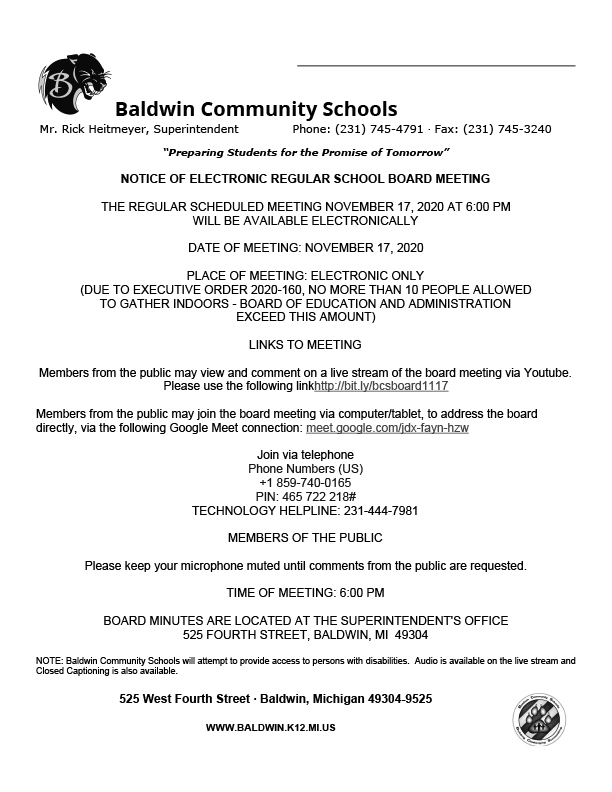 Regularly Scheduled Board Meeting for November
Rick Heitmeyer
Monday, November 16, 2020
NOTICE OF ELECTRONIC REGULAR SCHOOL BOARD MEETING
THE REGULAR SCHEDULED MEETING NOVEMBER 17, 2020 AT 6:00 PM
WILL BE AVAILABLE ELECTRONICALLY
DATE OF MEETING: NOVEMBER 17, 2020
PLACE OF MEETING: ELECTRONIC ONLY
(DUE TO EXECUTIVE ORDER 2020-160, NO MORE THAN 10 PEOPLE ALLOWED
TO GATHER INDOORS - BOARD OF EDUCATION AND ADMINISTRATION
EXCEED THIS AMOUNT)
LINKS TO MEETING
Members from the public may view and comment on a live stream of the board meeting via Youtube. Please use the following link http://bit.ly/bcsboard1117
Members from the public may join the board meeting via computer/tablet, to address the board directly, via the following Google Meet connection: meet.google.com/jdx-fayn-hzw
Join via telephone
Phone Numbers (‪US‬) ‪+1 859-740-0165‬ PIN: ‪465 722 218#‬
TECHNOLOGY HELPLINE: 231-444-7981
MEMBERS OF THE PUBLIC
Please keep your microphone muted until comments from the public are requested.
TIME OF MEETING: 6:00 PM
BOARD MINUTES ARE LOCATED AT THE SUPERINTENDENT'S OFFICE
525 FOURTH STREET, BALDWIN, MI 49304
NOTE: Baldwin Community Schools will attempt to provide access to persons with disabilities. Audio is available on the live stream and Closed Captioning is also available.